CARGO BOX VS. TRAILER: HOW TO PICK THE BEST OPTION
If you're planning a camping trip and you have a lot of gear, you may be wondering if you should carry your equipment in a cargo box or invest in a trailer. Here's a look at the pros and cons of each option.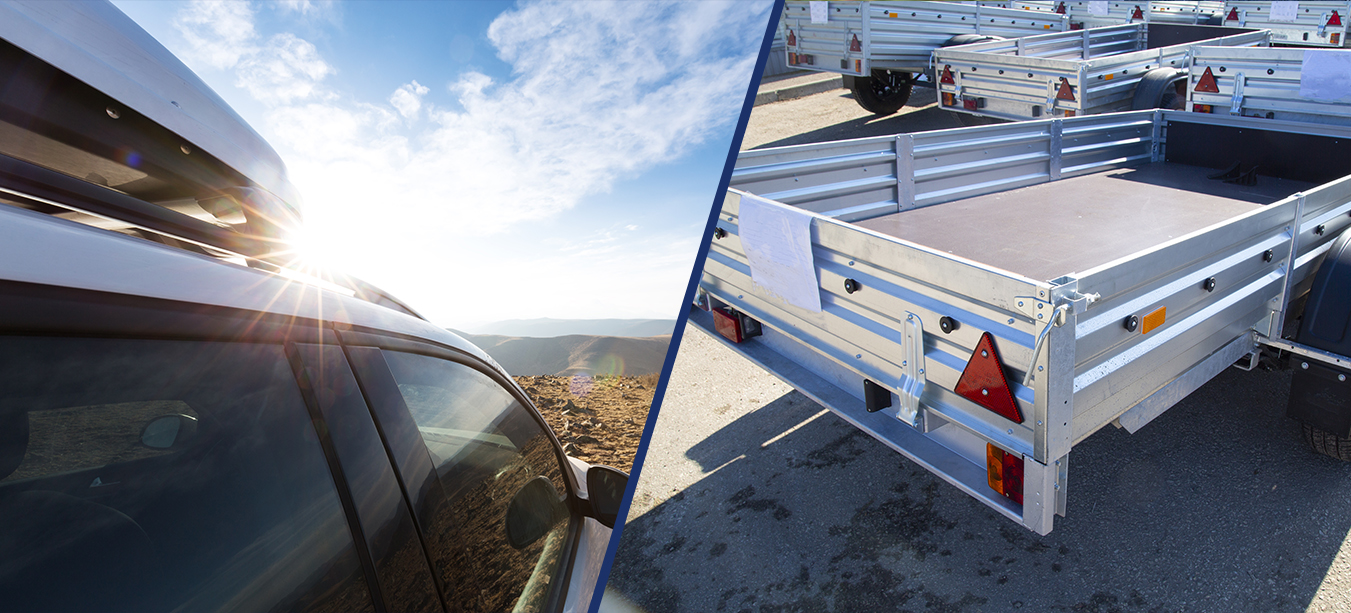 CARGO BOXES
Cargo boxes, sometimes referred to as rooftop carriers, are large containers that you strap directly onto your vehicle's roof rack. They can be large soft bags or solid shells.
• Pros
Cargo boxes are inexpensive, easy to use, low-maintenance and versatile. They also come in a variety of sizes and, compared to a trailer, are easier to drive around with.
• Cons
Unfortunately, Cargo boxes can't hold large items. They can also damage the roof of your vehicle if overloaded. Plus, they aren't particularly secure, and if your vehicle's roof is taller than average, they can be troublesome to load and unload.
Additionally, there are cargo carriers that attach to the hitch of your vehicle. They have most of the same pros and cons as roof top carriers.
TRAILERS
If you need to carry large items such as bicycles or snowmobiles, or if equipment your equipment is expensive and you want to keep it secure, then a trailer is likely your best bet. These attach to your car's towing hitch.
• Pros
The biggest advantage of a carrier is that it's much bigger than a cargo box. This lets you carry heavier and bulkier equipment. In addition, trailers are much more secure than cargo boxes.
• Cons
On the other hand, trailers can be hard to drive in mountainous areas and, in general, require some getting used to before you'll be ready to head out onto the open road. Plus, you need to make sure your vehicle is able to tow the trailer without problems. They also require a lot more maintenance, and if things go wrong, finding a replacement or a fix could be challenging and potentially pricy.
---
Bottom line
Generally speaking, if you tend to go on small trips from time to time, a cargo container is a better bet, as it's more affordable and less of a hassle. However, if you have a lot of pricey outdoor equipment, a trailer, which can double as a storage solution, may suit you better.
Sport racks, bike carriers and towing hitches in the GTA
At Hitch City, we carry a wide selection of rooftop and trailer carriers and our experts are happy to help you choose the best solution for your needs. Whether you're looking for truck accessories or getting ready for your next outdoor adventure, we have what you need.

Contact Us at our Mississauga, Barrie or Scarborough location for more information on specific products and promotions.