Expand Your Storage Space with Cargo Carriers in Toronto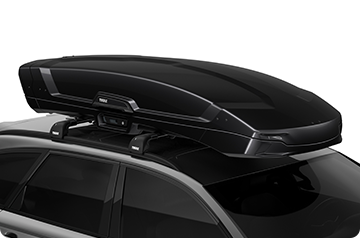 Gone are the days of the bulky, unattractive cargo carriers! The leaders at Thule® have introduced streamlined rooftop cargo carriers that complement contemporary vehicle design. You will enjoy our quiet, stylish, and easy-to-use carriers that feature quick and secure mounting, smooth opening and closing, and easy access. You have your choice in capacity with 4 available sizes, ranging from 300 to 610 liters. Choose from a variety of options such as attractive Black Glossy and Titan Glossy finishes.
Whether you are an adventure-seeker or heading out on a family vacation in Toronto, Canada or beyond we understand that sometimes the gear you're carrying demands a more open solution. Our roof baskets are perfect for bulkier, oddly-shaped items and allow for easy loading and unloading. Smart design features include wind fairings to manage air flow, adjustable tie-down loops and rubber-coated surfaces to improve grip. Hitch City has roof baskets in Toronto perfect for adventures of all sizes.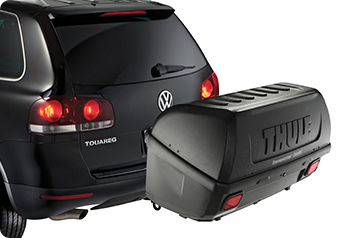 Suitable for heavy loads and vehicles where rooftop loading isn't an option, our hitch cargo carriers give you the extra storage you need with smart design features. These storage boxes tilt down, allowing you easy access to your trunk and ensure secure transportation with a smart locking system. Bring your bulkier gear, personal belongings and whatever you need on your next road trip with our hitch cargo carriers in Toronto

Take your carrying capacity to the next level with durable cargo carriers in Toronto from Hitch City. Our Thule® products offer safe and secure storage no matter where the road takes you.
Choose from heavy-duty yet aerodynamic cargo boxes, roof baskets for bulkier gear or hitch cargo carriers that still give you access to your trunk. You might even decide to choose two different options for the ultimate in extra storage space. The choice is yours and our team is here to help you decide what makes sense for your vehicle.
We invite you to explore what we have to offer and encourage you to give us a call or visit one of our locations conveniently located in Mississauga, Barrie or Scarborough if you need more information.
Rooftop, hitch, or why not both?
Thule cargo carriers are an ideal way to make sure you have everything with you on your travels without feeling loaded down. Choose between an extra-secure roof box or an open basket that's perfect for bulkier cargo. Alternatively, you can go for a hitch-mounted cargo carrier that fits on the rear of the car and still gives you access to the boot. You could even combine a rooftop and a hitch carrier to take your carrying capacity to a new level. Whatever you decide, you'll get a strong, safe, and stylish space for your extra gear
• Choice of rooftop box, basket, or towbar carriers
• Safe and secure for you and your gear
• Heavy-duty yet aerodynamic design
• Smart loading and storage features and accessories
Discover the New Generation of Cargo Boxes in Toronto
Forget what you know about cargo boxes in Toronto as the new generation is here at Hitch City! You will love the way our Thule® products look on your vehicle and appreciate the extra cargo space and smart design features they provide. Explore the options we have available and let us know if we can help.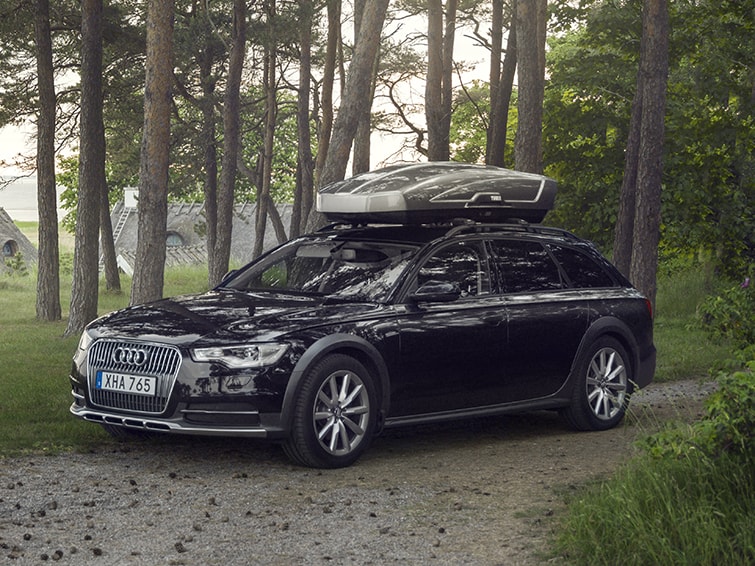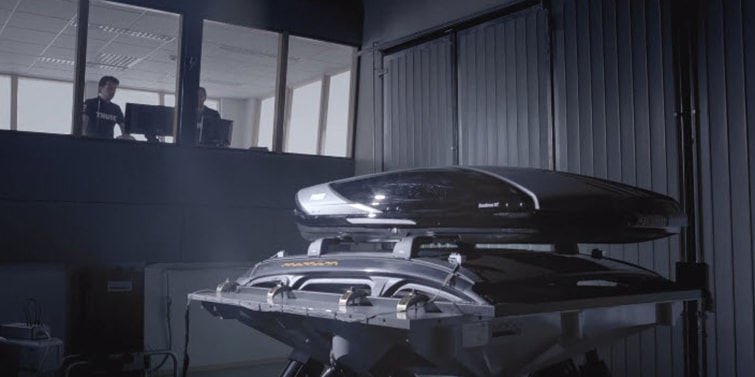 Tough Enough for Any Adventure
Don't let the stylish looks deceive you – our rooftop carriers, cargo baskets and hitch boxes are built to last.
All Thule® products are tested to the limits to ensure your gear is safe under the most demanding conditions. To get the final seal of approval, these carriers must pass wear and tear simulations and withstand extreme heat, cold, moisture, chemicals and prolonged sunlight exposure. Thule® storage systems are regularly voted best in class by testing agencies and driver associations.