26R Series 2

Winged Snowplow

26R Series 2
A Revolutionary Plow for half-ton trucks
| | | |
| --- | --- | --- |
| | | With our patented independently controlled hydraulic wings, the 26R Series 2 converts your truck into a snow moving machine, by providing more snow moving capability and flexibility than any other plow in the industry. |
---
CARRY 3X AS MUCH SNOW
---
You can go from a straight blade to a box plow right from inside the cab! Carry three times as much snow by simply pushing a button! And the patented Ground Hugger™ Blade Design keeps the 29R on the ground!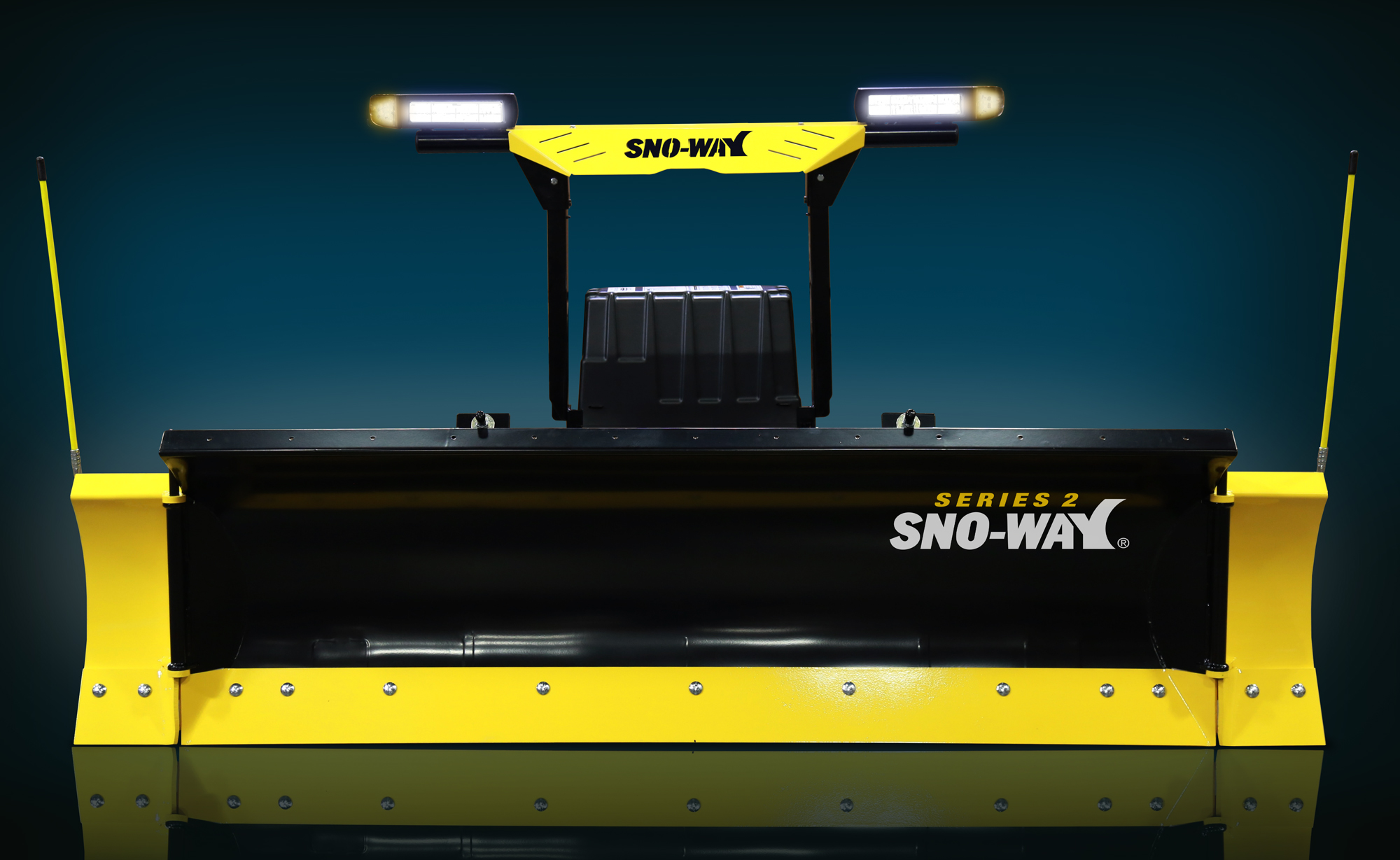 APPLICATIONS
1/2 Ton Trucks:

1500 Avalanche, F-150, Ram 1500, 1500 Sierra, 1500 Silverado, 1500 Suburban, 1500 Yukon
---
Series 2 Package

• LED Thermosensitive Heated Lights
• Pro Control 2 Plus (controls plow & lights)
• Upgraded Hydraulics Package
• Outboard Mount Stand
• Complete Fleet 2-Plug Connection System
• ESS™ — Energy Smart System
Contact a Hitch City near you to find out how to outfit your Sno-Way 26R Series 2 Snowplow
That Come Standard on This Plow :
PATENTED

DOWN PRESSURE® HYDRAULICS SYSTEM
30% MORE EFFICIENT

Eliminates the skim layer that all other plows leave

---

KEY BENEFITS

---

Sno-Way's patented Down Pressure® snow plow hydraulics is by far the ultimate snow removal equipment upgrade and only Sno-Way has it. No other plow manufacturer offers this option. Some may claim that their heavy weight plows produce results like Down Pressure® snow plow hydraulics, but take it from us – the leader in D.P. technology – no plow will clean as efficiently or as quickly as a Sno-Way plow. Sno-Way's Down Pressure® snow plow hydraulics allows you to scrape or backdrag more snow in less time resulting in 30% more efficiency.
---

30% More Efficiency with down pressure hydraulics

Move More Snow
Apply Down Pressure® in heavy, wet snow to keep the blade on the surface and collect more snow in one pass.

Fuel & Salt Costs
Down Pressure® eliminates the skim layer that all other plows leave = reduction in passes = saving fuel and using less salt

More Traction
Down Pressure® increases traction which also increases efficiency because of less tire spinning. This also reduces the risk of accidents.

Less Wear & Tear
Down Pressure® creates less force on front axle reducing the chance of breakage and the need for rebuilding the suspension.

Go Green
Down Pressure® reduces your fuel usage and prevent breakage, resulting in fewer parts in landfills and less salt being dumped on the road.

---
PATENTED

ESS ENERGY SMART SYSTEM

Plug & Play Design

ESS allows fleet owners to move any plow to any truck without the expense of installing a separate lighting system.

No relays. No modules. No downtime. No kidding.

Sno-Way's patented ESS™ plow light connection system simply removes the truck lighting circuit from the plow lighting system. The Energy Smart System is standard on all 1/2 ton truck or larger Sno-Way truck plows.

---

KEY BENEFITS

---

Down-Time Reduction:


• Eliminates all failure-prone relays
• Corrosion elimination
• Military grade connectors keep moisture out (in use or in storage)
• Simple, plug-and-play design
• Mating faces fit only one way — helps in all weather conditions
• Installs quickly and easily
• Cleanests and fastest in industry — used only one electrical harness
• Complete Fleet 2-Plug Connection System
• Can move ESS system from one truck to another without any additional costly components
PATENTED

DOUBLE HINGE PLOWS
MOVE MORE SNOW – IN LESS TIME

Offered on the Revolution Series of plows

NO-GAP WING DESIGN

The patented Double Wing Mechanism offered on the Revolution Series of plows greatly increases snow moving capabilities.

---

KEY BENEFITS

---

The hydraulically-controlled blade wings pivot 150 degrees (REVHD) and 90 degrees (29R, 26R) allowing the plower to turn his machine into a box plow, a scoop plow, a wide straight plow, a curb-cleaning plow, a half scoop plow and anything else the job requires.

In the optimal positions, the Double Wing plows will always out perform any V-Plow, Expandable Wing Plow or Straight plow with wings.

• Dual Hydraulic Wings
• Controlled by hand held controller
• No-Gap wing design
• Triple axis plow – center angle and dual wing angles
• Fast and responsive hydraulic action

PATENTED

GROUND HUGGER™ PLOWS

TRANSFERS PRESSURE FROM THE SNOW LOADS TO THE BLADE

---

KEY BENEFITS

---

Sno-Way's Ground Hugger™ blade design transfers pressure from the snow loads to the blade – effectively forcing the blade downward.

Key Features:
• Aggressive 65-degree cutting edge attack angle
• Blade geometry creates optimal roll for maximum force on the ground and evenly distributes snow loads across the moldboard
• Provides unmatched cleaning performance in combination with the downward force of the skid steer or tractor loader arms



PATENTED

DRIVE-IN MOUNT

EASY-TO-USE, SUPER FAST MOUNTING SYSTEM

Available as standard equipment on all Sno-Way plows

---

KEY BENEFITS

---

Early Sno-Way plow designs used an easy-on, easy-off plow mount system – the first to remove the complete plow and power pack unit from the vehicle. Today, Sno-Way has built on its reputation for efficient, innovative technology to provide an easy-to-use, super fast Drive-In Mount System.

Sno-Way's hydraulic-assist plow mount attaches itself to the vehicle sub frame. The driver simply positions the vehicle in line with the mount and uses the control (wired or wireless) to positively connect the plow. As a safety feature, Sno-Way's standard control can be easily disconnected from the harness in the cab and reconnected at the power pack on the plow. This industry- first design allows the driver to control the movement of the plow without standing between it and the vehicle (a common hazard among the competition).

Aside from its speed and simplicity, Sno-Way's Snow Removal Equipment Drive-In Mount System is standard equipment and not an option like some competitor's plow mount systems. You won't pay extra to hookup a Sno-Way on your truck. Available as standard equipment on all Sno-Way plows.
1) Simply drive in

Tapered surfaces provide for ease

2) Rotate light bar back

Moving light bar causes mount pins to seat in the right place

3) Lock mount handles and pull up jack stand

Spring loaded handles will snap into place
---
PATENTED

90° HYDRAULIC WING ROTATION


• 90° hydraulic wing rotation provides infinite snow moving adjustability!

• Patented hydraulic end wings that can be controlled together or independently to move the snow where you want it at any time. Each wing can be moved from a straight out position into a 90o orientation to the main blade —effectively creating a box plow.
TRIPLE-COAT PROTECTION



We start with zinc phosphate wash as an initial layer to prevent corrossion.

Then we add an automotive E-Coat primer which penetrates into the metal to keep rust from ever starting.

Finally we coat the blade with a military grade powder coat for tough exterior.
PRE-DRILLEDTOP BLADE RAIL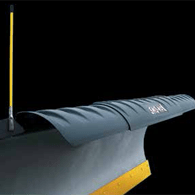 The pre-drilled top blade rail allows for E-Z installation of Sno-Way's E-Z Fit Deflector.
| | | | | |
| --- | --- | --- | --- | --- |
| | --- | 26R Series 2 Plow Configurations | --- | |
26R Plow Configurations



The versatile Revolution Series Plows can be converted into any kind of scoop plow needed to Move It!

• Independent wings rotate from 0° to 90°
• 45° scoop provides maximum snow moving capacity
• Hydraulic design keeps wings from folding back
• Can use available Down Pressure®
• Memory Macro takes 1 second
SPECS & MORE
SNO-WAY 26R Series 2

SNOWPLOW

Models
26R-8'-0" S2
Blade Width
96"
30° Angle Plow Width
83"
Blade Height
26"
Weight
590 lbs.
Cutting Edge
3/8" x 6" PRO Proprietary
Vertical / Diagonal Ribs
5 / 0
Trip Springs
2
Plow Lights
ESS LED Thermosensitive
Down Pressure® Hydraulic System
Standard
Wireless Control
Optional
Mount System
Drive In
*Complete plow weight does not include weight of subframe. Please contact a Hitch City associate for specific vehicle application details.
---
If you have questions about which SNO-WAY 26R Series 2 Snowplow is best for you, please call or contact us and we will be happy to assist you.



2021 Brochure

The 26R Series 2 Snow Plow is a revolutionary plow for ½ ton trucks providing more snow moving capability and flexibility than any other plow in the industry.

The "R" in the model identifier refers to the Revolution series of plows including the 26R, 29R and Revolution HD models. These plows are designed with patented hydraulic end wings that that can be controlled together or independently to move the snow where you want it at any time. Each wing can be moved from a straight out position into a 90 degree orientation to the main blade – effectively creating a box plow. This patented dual-hinge plow design provides you the ability to move up to 3.6 cubic yards of snow which is double the closest competitor's V plow or expandable plow!

Engage the Patented Down-Pressure® Hydraulics System that increases snow moving capacity another 30% and you have the ultimate snow clearing machine.

Common Truck Applications:
1/2 Ton: 1500 Avalanche, F-150, Ram 1500, 1500 Sierra, 1500 Silverado, 1500 Suburban, 1500 Yukon, Toyota Tundra
---