Pro-Flo



ANY JOB. ANY CONDITION.
Designed to attach to a wide variety of vehicles, the WESTERN® PRO-FLO™ 525 and PRO-FLO™ 900 poly tailgate spreaders feature a two-stage, auger-fed delivery system and dual variable-speed control for consistent and efficient flow of all types of de-icing materials.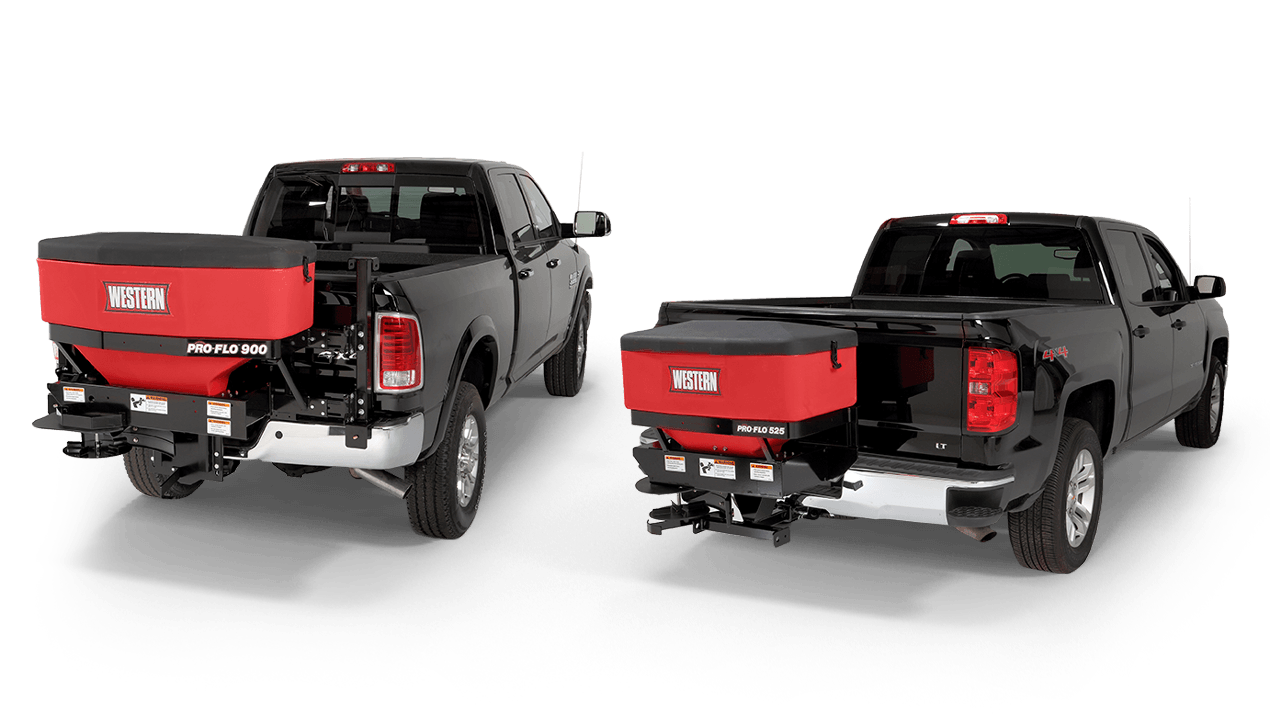 Contact a Hitch City near you to find out how to outfit your WESTERN® Pro-Flo™ 525 & 900 Tailgate Spreader

COVER



DUAL ELECTRIC MOTORS


A latching, molded polyethylene lid protects de-icing material from the elements.
Two instant-start, 12-volt electric motors provide quiet, reliable, independent control over the auger and spinner mechanisms. The spinner motor is sealed inside a weather-resistant housing, protecting it from corrosion.


CONTROLS



CORROSION-RESISTANT HOPPER


Enhanced dual variable-speed control allows you to precisely match material delivery and spread patterns to conditions.

Four standard accessory buttons and a dedicated blast button provide optimum in-cab efficiency.

Easy-to-understand, digital self-diagnostics alert the operator when the hopper is empty or when adjustments are needed, and LEDs make the controls easy to read.

Its compact size compared to traditional controls fits easily into today's modern truck cab designs.
PRO-FLO™ 525 and PRO-FLO™ 900 tailgate spreaders feature corrosion-free polyethylene hoppers for long-lasting durability.


MATERIAL DELIVERY



SPINNER


Material is delivered by a heavy-duty, powder coated, horizontal steel auger to provide long-lasting, reliable performance.

When an obstruction occurs, the transverse auger delivery system can reduce downtime by automatically backing itself in and out until the obstruction is cleared or a required adjustment has been made.
The PRO-FLO™ 525 tailgate spreader features a 10" spinner made of nylon/glass reinforced resin, and delivers a spread pattern of up to 30'.

The PRO-FLO™ 900 tailgate spreader features a 12" steel spinner and delivers a spread pattern of up to 40'.


ACCESSORY INTEGRATION



INVERTED V / VIBRATOR


Conveniently connect accessories directly into the spreader module mounted in the spinner motor enclosure. Accessories automatically integrate with the tailgate control without having to run additional wires from the front of the truck.
The standard inverted V helps keep sufficient material weight off of the auger, ensuring smooth startup and flow of material.

The inverted V is directly connected to a 12-volt vibrator to help reduce bridging and keep material moving to the auger.


TOP SCREEN



MOUNTING OPTIONS


The standard coated steel top screen helps break up large chunks of de-icing material during the loading process to help prevent clogging and bridging during spreader operation.
The PRO-FLO™ 525 tailgate spreader comes standard with a combination 2" receiver hitch and 3-point tractor mount for use on multiple vehicle types.

The PRO-FLO™ 900 tailgate spreader* requires the additional purchase of one of the available mount options: a pivot mount, a 2" receiver hitch mount (requires additional adapter), or a 3-point hitch mount.

*Mounts sold separately.
PRODUCT SPECIFICATIONS
---
---
WESTERN PRO-FLO™ 525 & 900 TAILGATE SPREADERS
Models
PRO-FLO 525
PRO-FLO 900
Capacity
5.25 cu ft
9.00 cu ft
Hopper Construction
Polyethylene
Polyethylene
Dimensions Overall (LxWxH)
20 ½" x 38" x 34"
24" x 52" x 36"
Approx. Weight (Empty)
160 lb
180 lb
Motor
Dual Electric, 12V 1/3 hp
Dual Electric, 12V 1/3 hp
Auger (Diam. x Length)
3" x 14" Heavy-Duty Solid Steel
3" x 20" Heavy-Duty Solid Steel
Spinner Size
10"
12"
Spreading Width
Up to 30' ft
Up to 40' ft
Material
Bagged Rock Salt
Bagged Rock Salt
Vehicle Application
Tractors, UTVs, SUVs, 1-Ton or Smaller Pickups
Tractors, 1-Ton or Smaller Pickups
Available Mounts
Standard 2" Receiver, 3-point Combo Mount
Pivot Mount, 2" Receiver Hitch (Requires Adapter Mount), 3-Point Hitch Mount*
*Mounts sold separately
WESTERN PRO-FLO™ 525 & 900 TAILGATE SPREADER GALLERY
---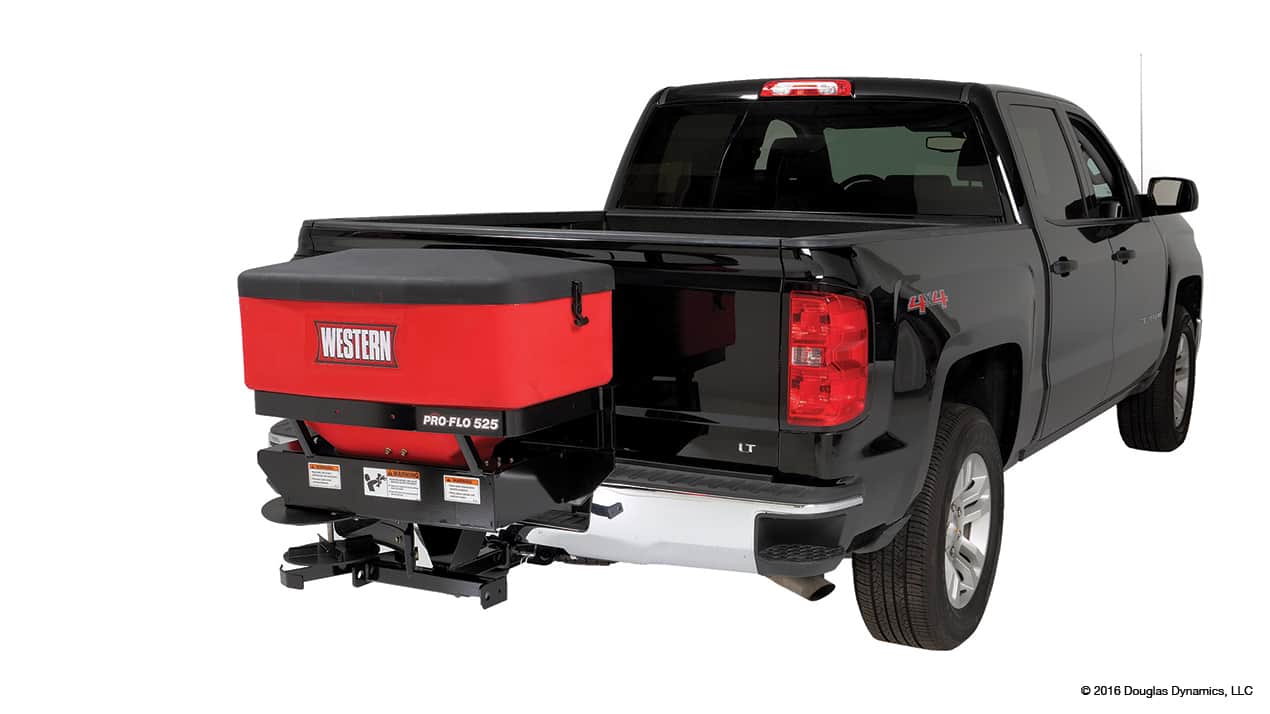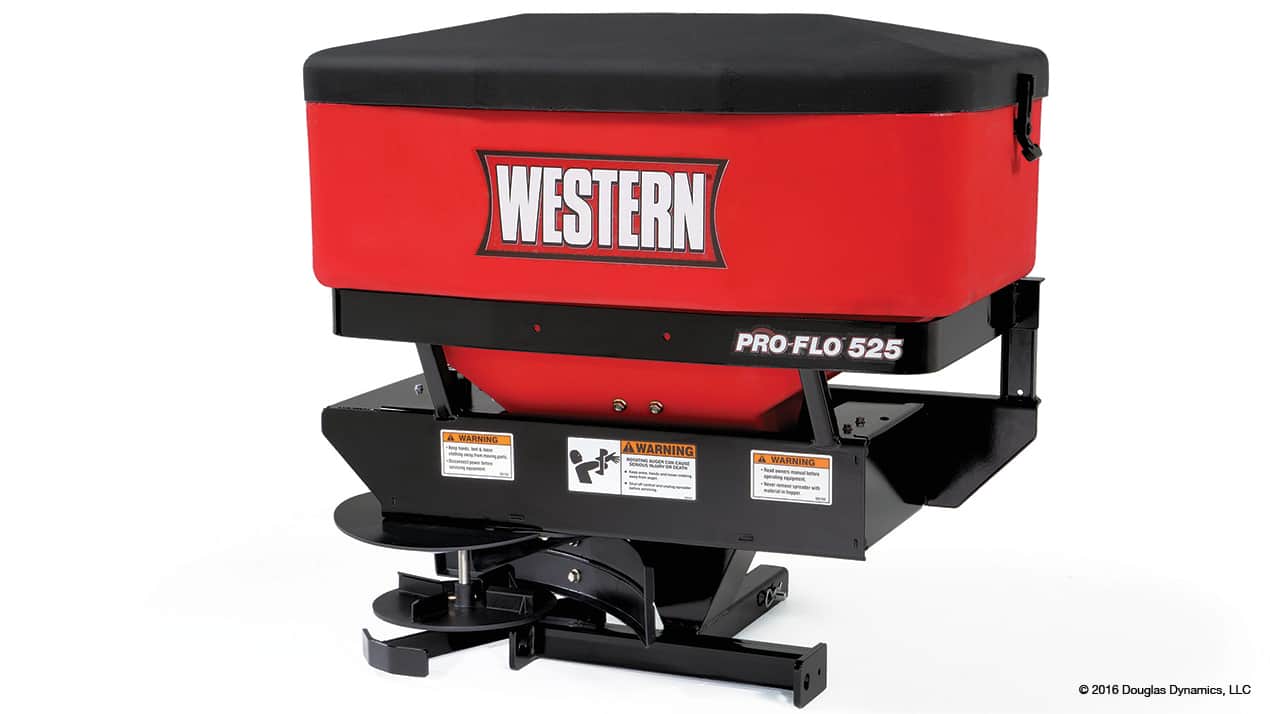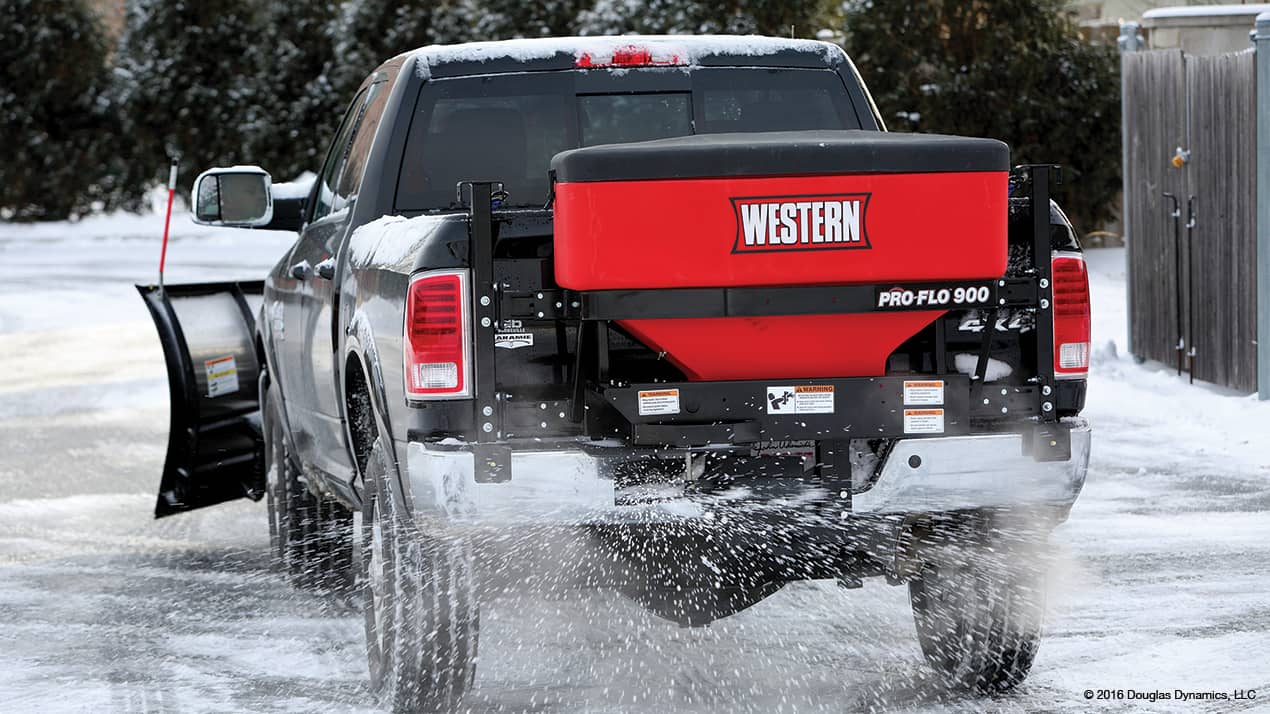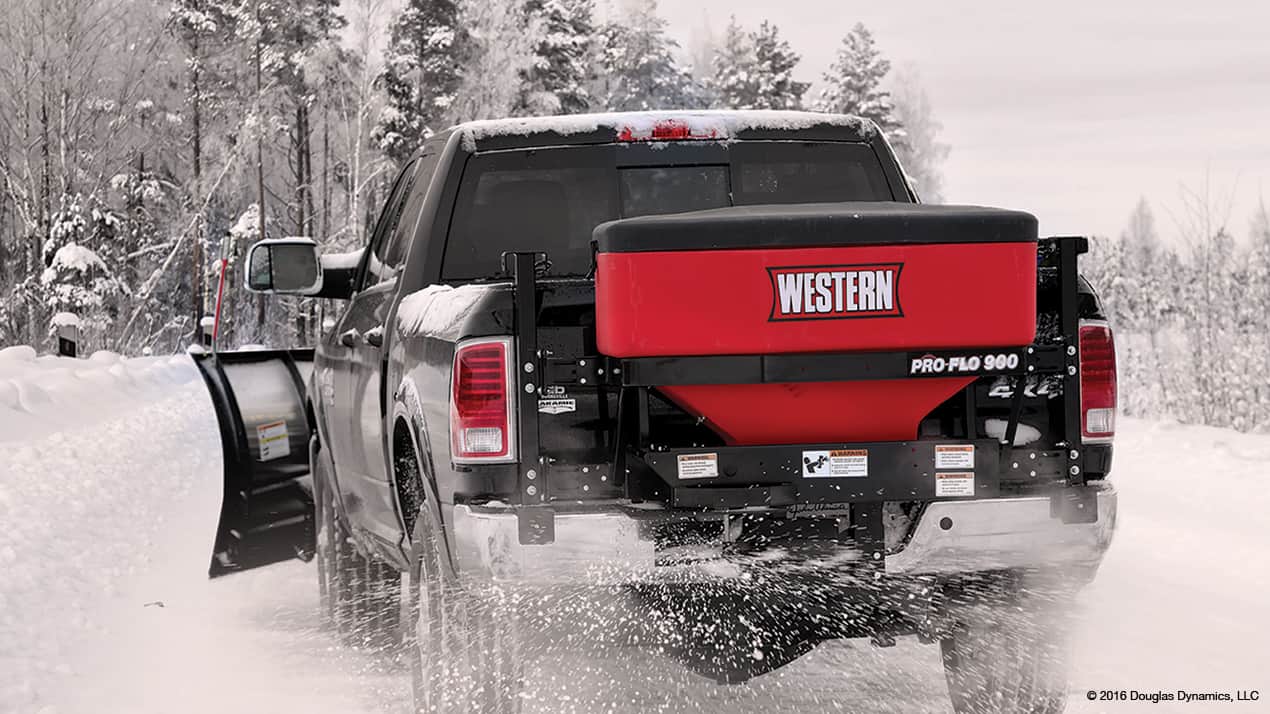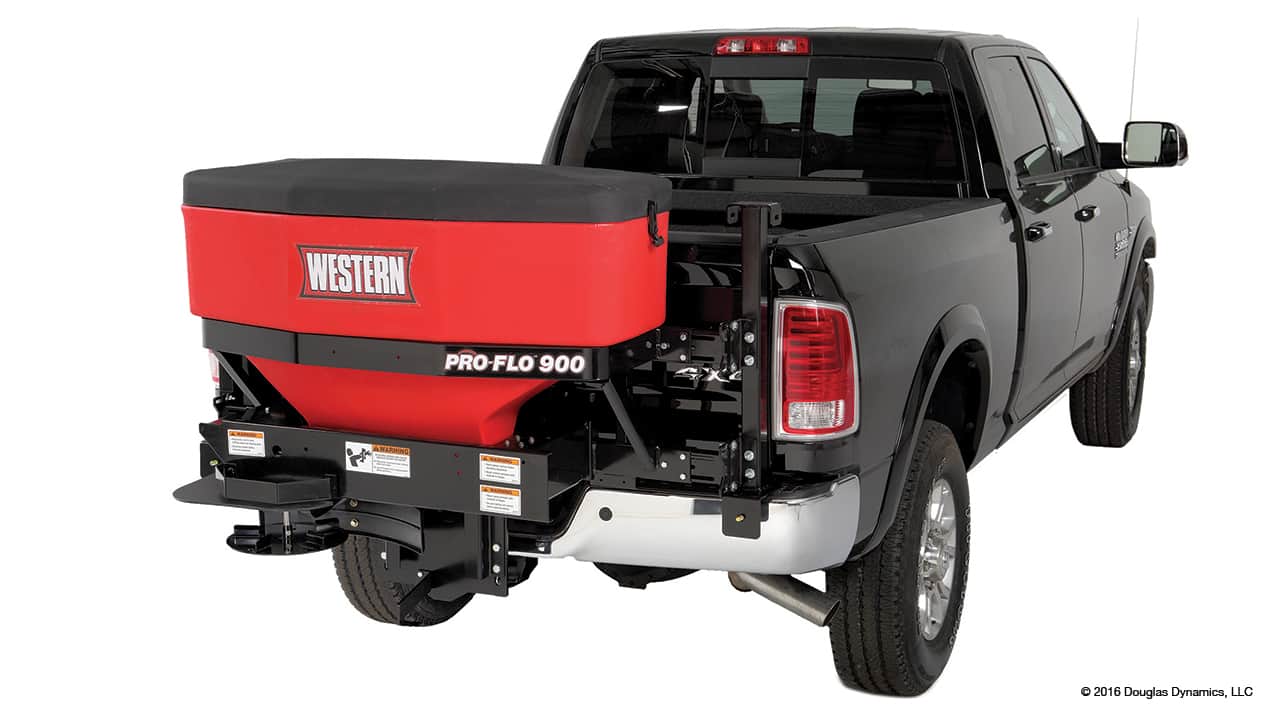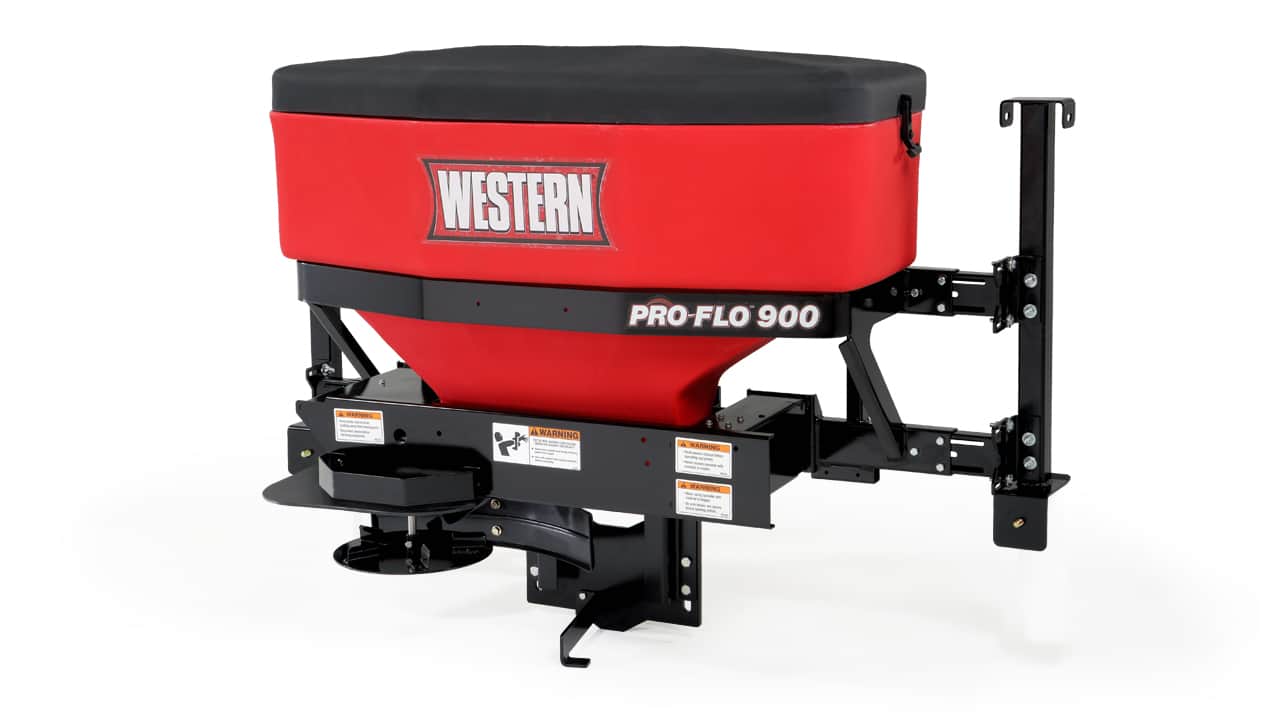 ×