1022

Single-Stage Snow Blowers

1022
Single-Stage Snow Blowers
COMPACT IN SIZE, IMPRESSIVE IN PERFORMANCE


Model# 1022
Providing efficient and easy snow removal, a Simplicity single-stage snow blower packs a powerful punch in a small machine. Light and easy to handle, this machine is auger-propelled and has convenient features like electric start (1022E, 1022ER models), a quick-adjust deflector handle and an easy-to-use chute-mounted rotation handle (618, 622, 1022, 1022E) or remote chute rotation crank (1022ER).

Powered by the specially designed Briggs & Stratton® Snow Series Engine, this snow blower is a hassle-free machine that will get you through many winters to come.
---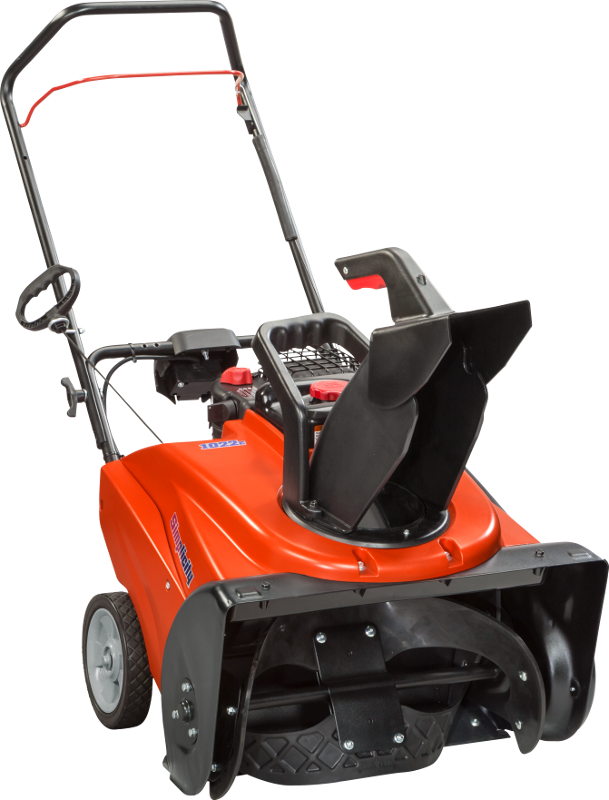 *Model shown in image may vary.

Easy Starting


Reliable Power

Push button electric start allows for quick, no hassle starting - every time. (Excludes 618, 622, 1022)
Powered by a Briggs & Stratton® Snow Series Engine, this machine will offer the power and starting reliability you need to tackle this winter's snow clearing.


Easy Cleaning


Easy Control

With an auger-assisted drive system, the wear-resistant polymer auger makes contact with the ground, helping move the snowblower forward with little operator effort and cleaning down to the pavement
Switch the direction snow is thrown from left-to-right quickly and easily with the chute-mounted rotation handle (618, 622, 1022, 1022E) or the remote chute rotation crank (1022)
SPECS
SIMPLICITY 1022

SINGLE-STAGE SNOW BLOWER

Model
1697143-00
1697142-00
1697144-00
1697098-00
1697115-00
Marketing Model
1022
1022E
1022ER
618
622
Clearing Width (in)
22
22
22
18
22
Throwing Distance (ft)**
30
30
30
Intake Height (in)
12.5
12.5
12.5
12.5
Auger Type
Thermal Plastic Urethane
Thermal Plastic Urethane
Thermal Plastic Urethane
Thermal Plastic Urethane
Thermal Plastic Urethane
Auger Gear Case Material
N/A
N/A
N/A
N/A
N/A
Auger Diameter (in)
10
10
10
7
10
Number of Impeller Blades
N/A
N/A
N/A
Skid Shoes
N/A
N/A
N/A
N/A
N/A
Engine Brand
Briggs & Stratton
Briggs & Stratton
Briggs & Stratton
Briggs & Stratton
Briggs & Stratton
Engine Model
950 Snow Series™
950 Snow Series™
950 Snow Series™
Snow Series™
Snow Series™
Torque (ft-lbs, gross)*
9.5
9.5
9.5
5.5TP / 127cc
5.5TP / 127cc
Engine Displacement
208
208
208
Fuel Tank Capacity (qts)
3.2
3.2
3.2
Starter
Recoil
Electric with Recoil Back-up
Electric with Recoil Back-up
Chute Material
Plastic
Plastic
Plastic
SS - Plastic
SS - Plastic
Chute Rotation
200° Manual
200° Manual
200° Remote Crank
200° Manual
200° Manual
Chute Deflector
Quick Deflector
Quick Deflector
Quick Deflector
Quick Deflector
Quick Deflector
Drive Type
Auger-Propelled
Auger-Propelled
Auger-Propelled
Auger-Propelled
Auger-Propelled
Ground Speed-FWD (mph)
N/A
N/A
N/A
N/A
N/A
Ground Speed-REV (mph)
N/A
N/A
N/A
N/A
N/A
Tire Size/Thread (in)
8 x 2
8 x 2
8 x 2
Panel Type
N/A
N/A
N/A
Gull Wing
Gull Wing
Free Hand™ Control
N/A
N/A
N/A
N/A
N/A
Heated Hand Grips
N/A
N/A
N/A
Headlight
N/A
N/A
N/A
None
N/A
Storage Cover
N/A
N/A
N/A
N/A
N/A
Clear Out Tool
N/A
N/A
N/A
Drift Cutters
N/A
N/A
N/A
N/A
N/A
Snow Cab
N/A
N/A
N/A
N/A
N/A
Tire Chains
N/A
N/A
N/A
N/A
N/A
Consumer Warranty (Product) ***
3-Year
3-Year
3-Year
3-Year
3-Year
Commercial Warranty (Product) ***
90-Days
90-Days
90-Days
Warranty Commercial Product
90-Days
90-Day
90-Days
90-Days
Hand Warmers
N/A
Starting System
Recoil
Recoil
*All power levels are stated gross torque at 2600 rpm per SAE J1940 as rated by Briggs & Stratton.
**Capacity and throwing distances can be affected greatly by conditions.
***See Operator's manual for complete warranty details
SIMPLICITY SINGLE-STAGE SNOW BLOWER 1022 GALLERY
---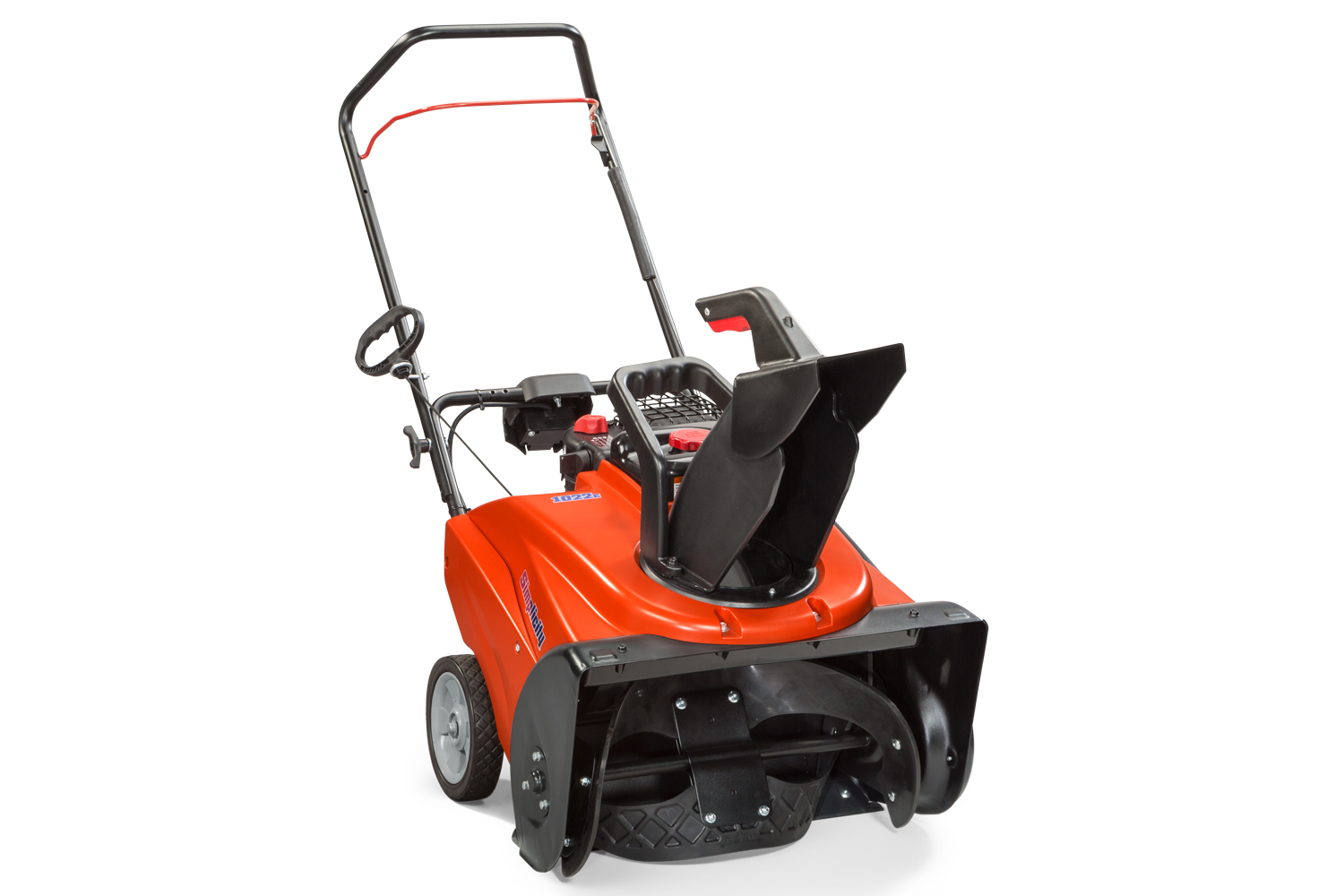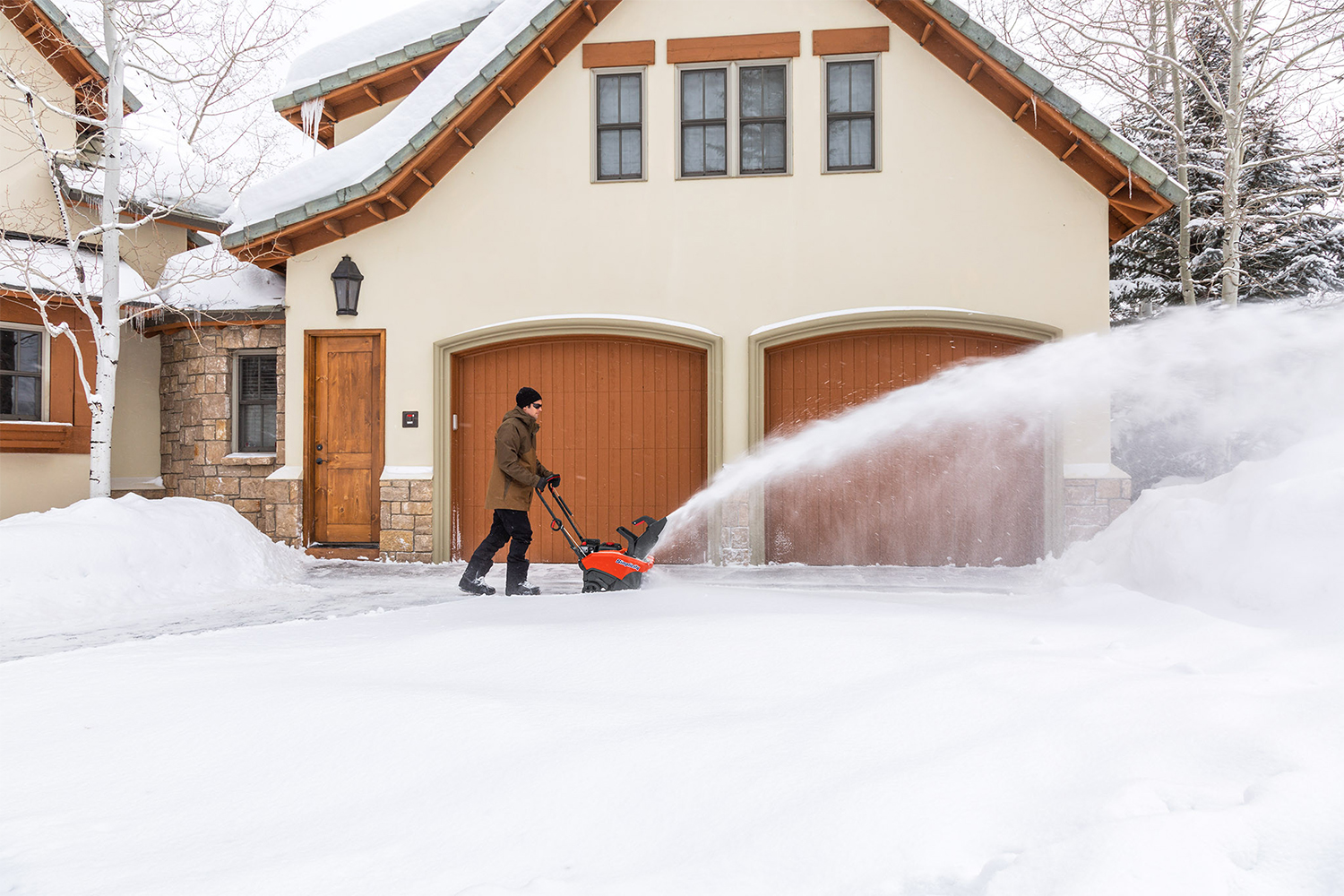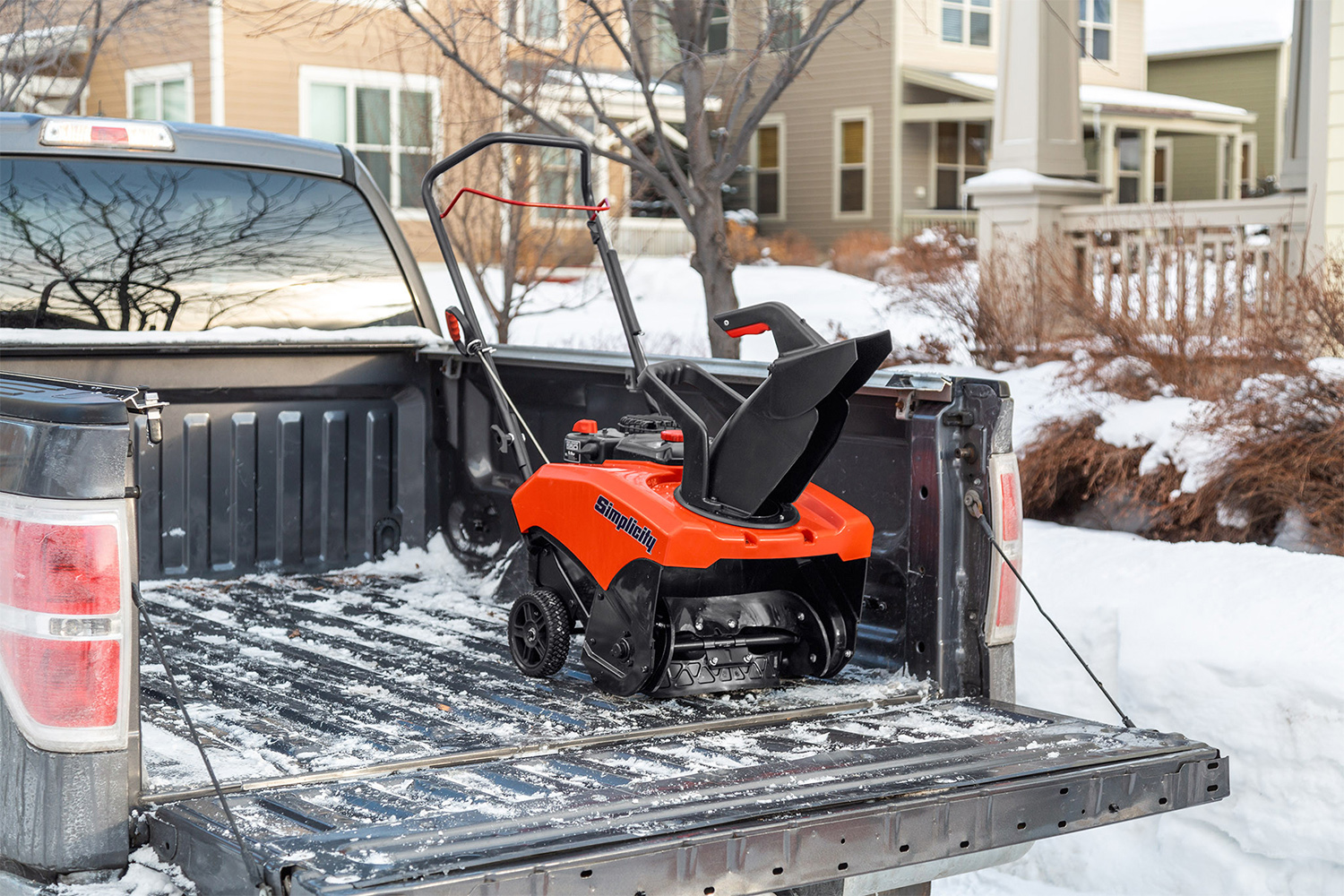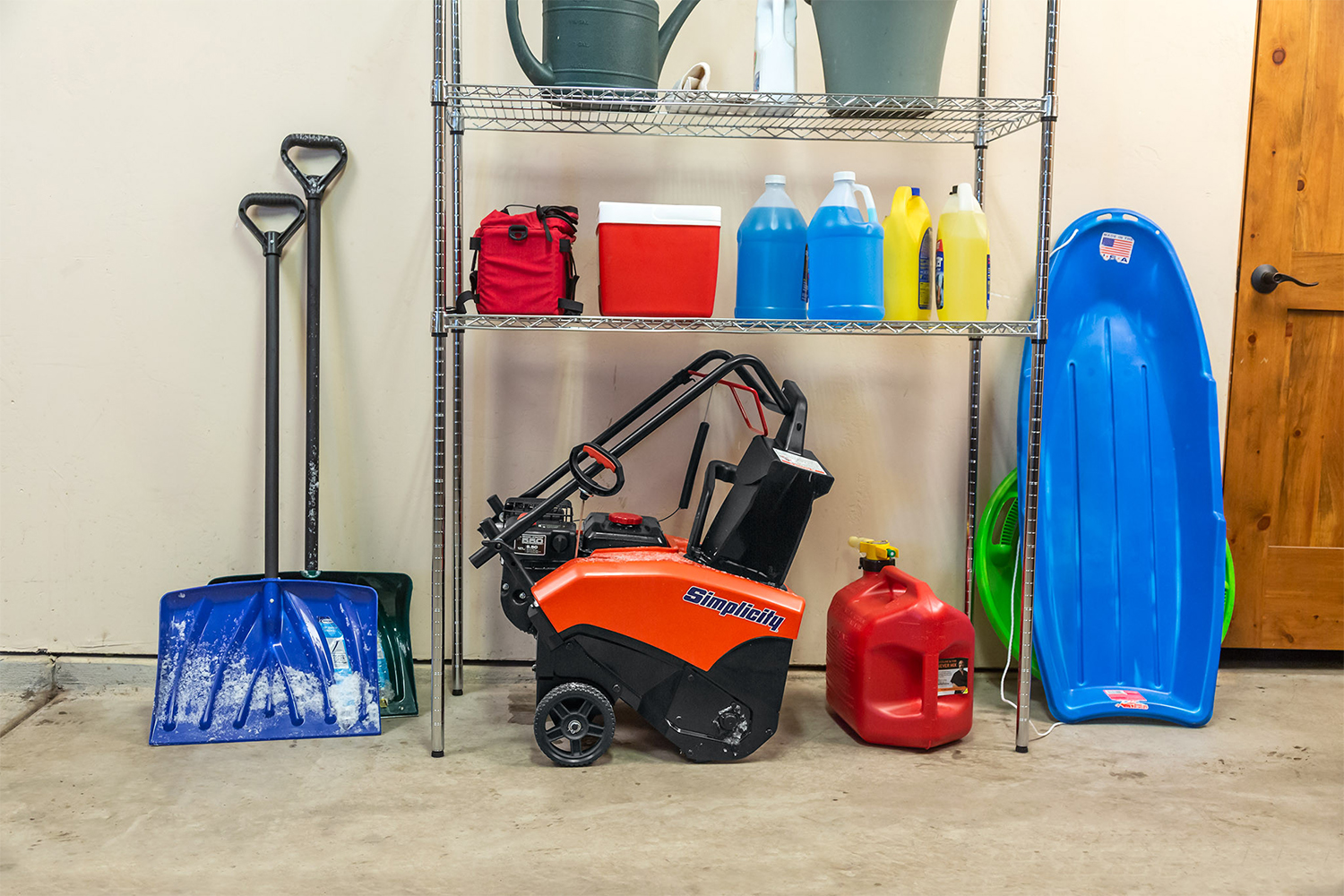 ×