Shelving
Shelving
Take control and organize the interior of your commercial van or fleet. Hitch City is your partner to assist and carry out your specifications.
ADJUSTABLE SHELVING
Durable, professional grade WEATHER GUARD® Van Shelving takes it to the max! Maximum customization and capacity, for maximum productivity. Shelves can be adjusted quickly without removing them from the van. Assembly and installation is faster and easier than before. Customize your storage solution by checking out the shelving accessories here.
TAPERED END PANEL CLOSER FIT


17º for more working space inside the van



ADJUSTABLE DIVIDERS


Includes pack of four adjustable dividers for each shelf



DEEP FULLY HEMMED SHELVES


sized for tools, equipment, and other materials

PUNCHED SHELVES


for easier installation of accessory cabinets



EASY TO CUSTOMIZE


with pre-punched mounting holes for WEATHER GUARD® accessories and cabinets

FRONT FLOOR CLEARANCE (16" SHELVES ONLY)


for material storage. Fits PACK RAT® Drawer Units

EASY TO ASSEMBLE AND INSTALL


with captive nuts on each shelf and complete installation hardware

UNMATCHED DURABILITY


converts bulkhead to swing door version with lockable latch

FLAT FRONTS


on 13-½" deep adjustable shelves. Mount doors and accessories at floor level
SECURE STORAGE
Add extra security and theft-resistance for valuable tools and equipment with WEATHER GUARD® Secure Storage shelf units. Multiple door and drawer modules easily assemble into REDZONE Shelving. Our welded steel construction and heavy-duty locking mechanism ensures peace of mind on the job or in the parking lot.
HIGH SECURITY


welded steel box and shelf construction

UNMATCHED ORGANIZATION & EFFICIENCY


with no wasted space below or between drawers

UNMATCHED DURABILITY


box construction strengthens and rigidizes shelf unit

EXTRA LARGE STEEL DRAWERS


17"x14"x4" or 6" with ball bearing slides rated at 75 pounds per drawer

FAST AND EASY ASSEMBLY


modules bolt to end panels. Add top shelf to complete unit.

FULLY FUNCTIONAL 16" SECURE MODULE TOP


designed like a 16" shelf for additional storage
Secure Storage Shelf Units (42" Wide)
MODEL
HEIGHT
DIVIDERS
WEIGHT
Full Size Vans
9381-3-03
Secure Storage Shelf Unit
(Includes end panels and top shelf)
44"
8
104 lbs.
High Roof Vans
9391-3-03
Secure Storage Shelf Unit
(Includes end panels, top and center shelf)
60"
12
108 lbs.
Storage Module Only (for 42" wide shelf units) ORDER SEPARATELY
9040-3-01
Door Storage Module
47 lbs.
9045-3-02
5 Drawer Srorage Module
78 lbs.
Secure Storage Service Parts
MODEL
DESCRIPTION
WEIGHT
70206-xx
Replacement Lock Kit
117 lbs.
70210-xx
Key Kit
1 lb.
70211-xx
Replacement D Handle Kit
1 lb.
xx- Designates key code. Specify key code 11-20 when ordering.
SELECT THE SHELF UNIT TO FIT YOUR VAN
FULL-SIZE
or
MID/HIGH ROOF
SELECT THE STORAGE MODULE TO FIT YOUR NEEDS

DOOR MODULE #9040-3-01

OR

5 DRAWER MODULE #9045-3-02
EZ-CUBE WELDED SHELVING
Heavy-duty van storage, made easy. Our fully arc-welded WEATHER GUARD® EZ-Cube Shelving is pre-assembled and ready to install. Pre-punched shelves allow for quick installation of cabinets, bin dividers, or accessory doors. Heavy-gauge steel construction with our signature bright white powder coat ensure years of durability, and a professional appearance.
TAPERED END PANEL DESIGN


allows a close fit to the van wall and additional cargo space in the middle of the van

MIDDLE TWO SHELVES ARE PRE-PUNCHED


for EZ Bin Dividers

FULLY ARC WELDED


for durable construction and no assembly

BOTTOM RETAINER LIP


is made of durable, heavy gauge steel

HEMMED SHELVES


provide extra strength and a lip in front of the shelf for load retention

EZ SHELF DOORS


turns bottom shelf into a cabinet

BOTTOM SHELF IS PRE-PUNCHED


for EZ installation of accessory cabinets

EZ Bin Dividers mount to two middle shelves
EZ-Cube for Full-Size Vans
MODEL
SHELVES
HEIGHT
WIDTH
TOP DEPTH
BOTTOM DEPTH
WEIGHT
9400-3-01
4
43¾"
42"
11¼"
13¾"
76 lbs.
9452-3-01
4
43¾"
51"
11¼"
13¾"
90 lbs.
Accessories for EZ-Cube Shelving
MODEL
DESCRIPTION
WEIGHT
8401-3-01 EZ Bin
Dividers (8)
18 lbs.
8841
EZ Shelf Mat (trim to fit)
1 lb.
8502-3-01
EZ Shelf Door (42" wide X 10" high)
17 lbs.
8503-3-01
EZ Shelf Door (51" wide X 10" high)
20 lbs.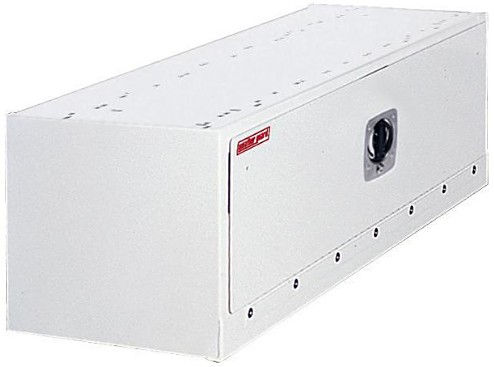 Wheel Well Base Cabinet


Designed to fit over the wheel well and provide a flat, sturdy foundation for Shelf Units, Parts Cabinets, or Drawer Units.

MODEL
HEIGHT
WIDTH
DEPTH
WEIGHT
9444-3-01
13¾"
42¾"
15"
49 lbs.