Roof Bike Racks
Take your bike wherever you go with roof bike racks in Toronto from Hitch City. We are your trusted, local GTA supplier of innovative Thule® products that offer the ultimate in ease of use and reliability with locations in Mississauga, Barrie and Scarborough.
Featuring smart designs for easy loading and unloading, you can choose between fork-mounted carriers with thru-axle options, frame-hold designs and wheel mounting options. Hitch City stocks all the roof bike racks and related accessories needed to fully equip your vehicle.
Browse our available products and feel free to give us a call with any questions.
Accessories ► For Roof Bike Racks
Choose the perfect roof bike rack
The roof bike rack range from Thule gives you a full choice of different mounting and loading/unloading options. With everything from fork-mounted carriers that include thru-axle options to frame or wheel mounted roof bike racks. If you already have a car roof rack, it may be a more convenient choice as you only need to add the bike roof rack.
When you buy a Thule roof bike rack you can expect:
• Choice of fork, frame and wheel mounting
• Smart designs for easy loading/unloading
• Accessories to increase your loading options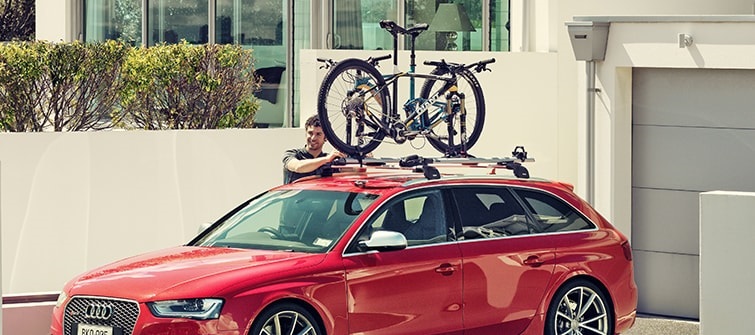 Safe, secure, and easy bike transportation
Each roof bike rack from Thule ensures your bike will get where you're going without damage. Plus it is easy to load and unload even when you're on your own. There is also a choice to suit your bike and how you want to transport it. Choose from fork-mounted carriers that include thru-axle options to wheel-mounted or "frame-hold" designed roof bike racks for a quick, precise hold and a more stable ride.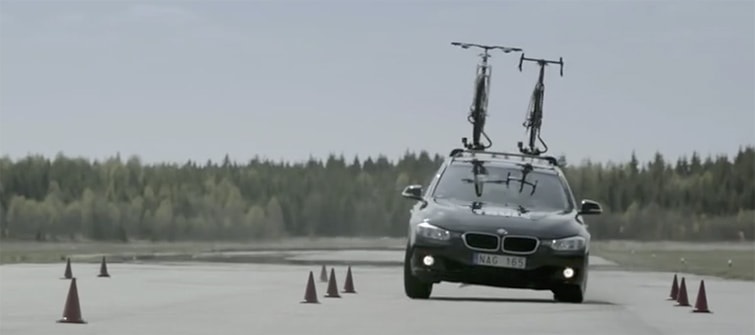 Tested, tested, and tested again
Our roof bike racks are tested extensively in the Thule Test Center™ – a state-of-the-art facility for testing bike roof racks to the limit and beyond. They are also designed for maximum ease of use with many smart features added during development. You can be confident that your roof bike rack will carry your bike safely and securely wherever you want to go. And you'll be in the saddle as quickly and easily as possible.